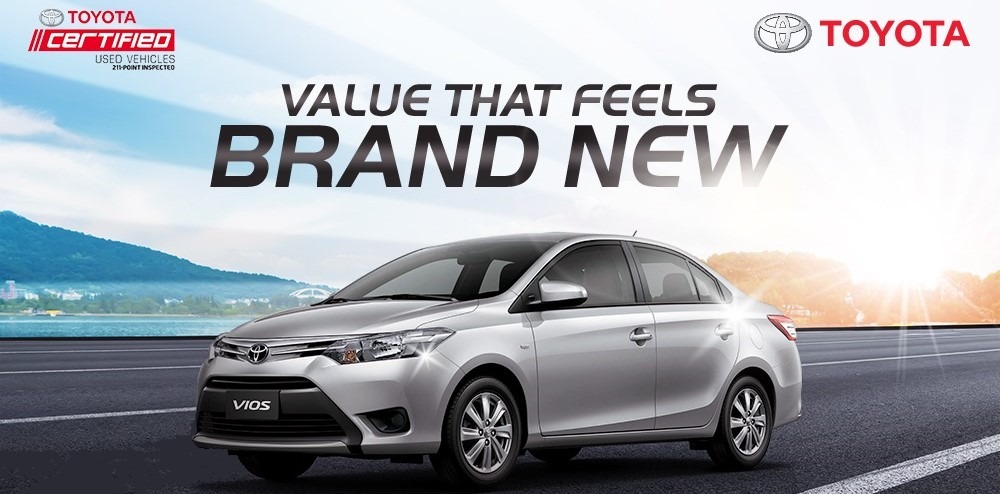 TOYOTA CERTIFIED-USED VEHICLES

TCUV (TOYOTA CERTIFIED-USED VEHICLES)
GET THE TCUV ADVANTAGE
Accurate Assessment of Vehicle Condition
211-point Inspection
Fair Price Value
1 Year or 20,000 KM limited warranty covering engine and transmission
GET THE TCUV ADVANTAGE
YEAR OR 20,000 KM LIMITED WARRANTY.
Our team of highly skilled accredited assessors have undergone hours of intensive training under a Japanese specialist for them to be able to conduct an inspection process based on a transparent standard of assessment for high sense of assurance.
FAIR TRADE-IN
VALUE
Trade-ins are assessed meticulously to provide you the best value for your vehicle.
RIGOROUS CERTIFICATION
PROCESS
Each vehicle undergoes a 211-point inspection process, making use of advanced technology to assess its condition. Strict TCUV standards, as well as specific criteria, must be met in order for a vehicle to be certified.
EXTENDED WARRANTY
PROTECTION
Every Toyota Certified Used vehicle comes with an additional limited warranty for 12 months or 20,000 km, whichever comes first.
THE CERTIFICATION
PROCESS
For a vehicle to be called "Certified", it must first pass the strict quality standards set by Toyota.
THE CRITERIA FOR A VEHICLE TO PASS CERTIFICATION ARE AS FOLLOWS:
Must be a Toyota vehicle
Must obtain a high overall inspection rating of 4 or above out of 5 (based on the 211-point checklist)
Must have a mileage of 60,000 km or less
Must be within 5 years after first registration
Must have no frame damage and is not a flooded vehicle
Must have not been purchased from the gray market (through used-car importation)
GET THE TCUV ADVANTAGE
1-Year Extended Warranty
Because Toyota wants you to have the best after-sales experience, we provide each Toyota Certified Used vehicle an additional limited warranty covering engine and transmission for 12 months or 20,000 kms, whichever comes first.
Sales Department 
Telephone numbers:
8-846-7777 locals 3211 to 3215
or 8-773-2801, 8-773-2802, 8-773-2803, 8-773-2804 
or 8-773-2805
Showroom telephone numbers:
8-773-2888 or 8-846-7777 locals 3202, 3204 or 3208
Email Address: customer.relations@toyotaglobalcity.com 
Service
Telephone: (02) 8846-7777 local: 3307/3311/3314
Mobile Nos. 
Globe No.: 0917-638-8765 / 0917-533-6108
Sun No.:  0999-884-7490
Email Address: mrs@toyotaglobalcity.com
Insurance 
Telephone: (02) 8846-7777 local: 3501 to 3507
Mobile Phone
Globe No.: 0917-840-8367
Smart No.:  0926-731-8620
Email Address: m2iataguig@m2insure.com